Automatic warehouses
self-supporting vertical tower storage warehouse
MPS Engineering, specialized in the construction of turnkey automatic warehouses, offers customized solutions based on customers' needs, taking into account the available space and the characteristics of the products to be stored.
Our warehouses are equipped with advanced handling systems that include multiple stacking towers served by fixed elevators, vertical lifts, and automatic shuttles. The shuttles can operate on rails or industrial floors, and roller conveyors are also available for the transportation of load units (UDCs).
The stacking towers are constructed with sturdy electro-welded and bolted steel profiles, and we use a hot-dip galvanizing process to protect their structure. Sliding guides are welded onto the warehouse columns, providing a secure accommodation for the UDCs.
Externally, the warehouse is clad with sandwich panels that ensure proper thermal insulation. Pedestrian access points are equipped with alarms and secured with electro-locking systems to ensure safety and protection.
Our warehouses offer the possibility to create a controlled environment in terms of temperature and humidity, allowing customers to store their products in optimal conditions.
For the connection with the main building, we create a dedicated tunnel through which the UDC transport shuttle moves, ensuring an efficient and safe flow of goods between the warehouse and the production area.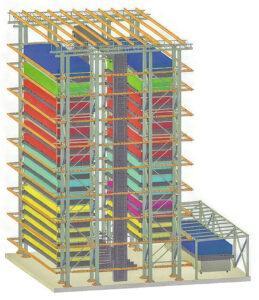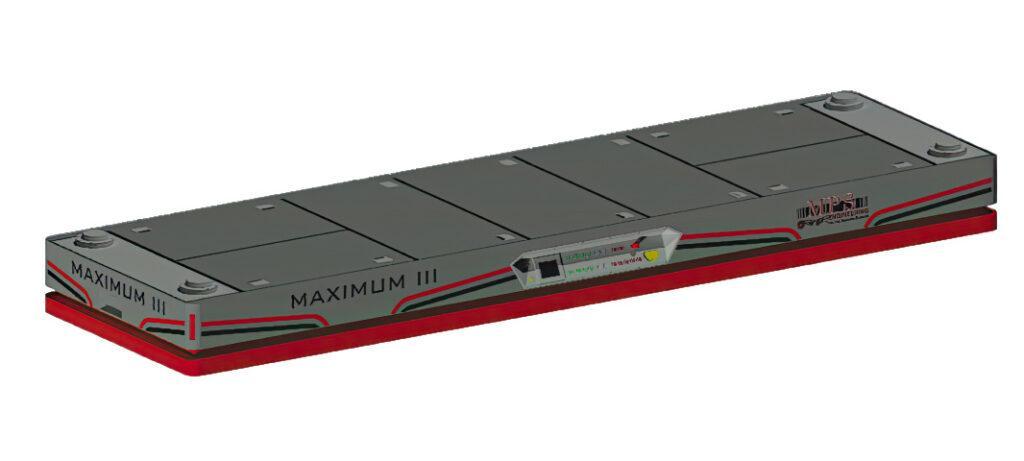 An automatic self-supporting warehouse with 2 stacking towers and a shuttle on the floor.
| STORAGE UNITS | | |
| --- | --- | --- |
| Stored Product | | Carboresin Molding Tools |
| Quantity Stored | N° | 30 |
| Maximum Dimensions | mm | 8.500 x 2.500 x h = 600 |
| Maximum Load Capacity | kg | 5.000 |
| AUTOMATIC WAREHOUSE | | |
| --- | --- | --- |
| External dimensions, warehouse footprint | mm | 12.000x10.000x16.000 (H) |
| Total usable storage volume | mc | 230 |
| Maximum dimensions | °C | 18 ÷ 28 |
| HANDLING SYSTEM | | |
| --- | --- | --- |
| Number of elevators | N° | 1 |
| Maximum elevator capacity | kg | 7.000 |
| Maximum longitudinal (X-axis) speed | m/min | N.A. |
| Transverse (Y-axis) UDC handling speed | m/min | 15 |
| Maximum vertical (Z-axis) speed | m/min | 20 |
| Maximum shuttle speed | m/min | 20 |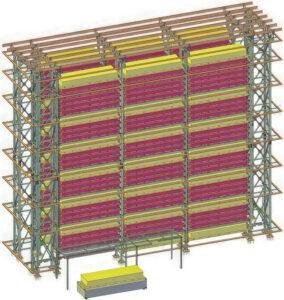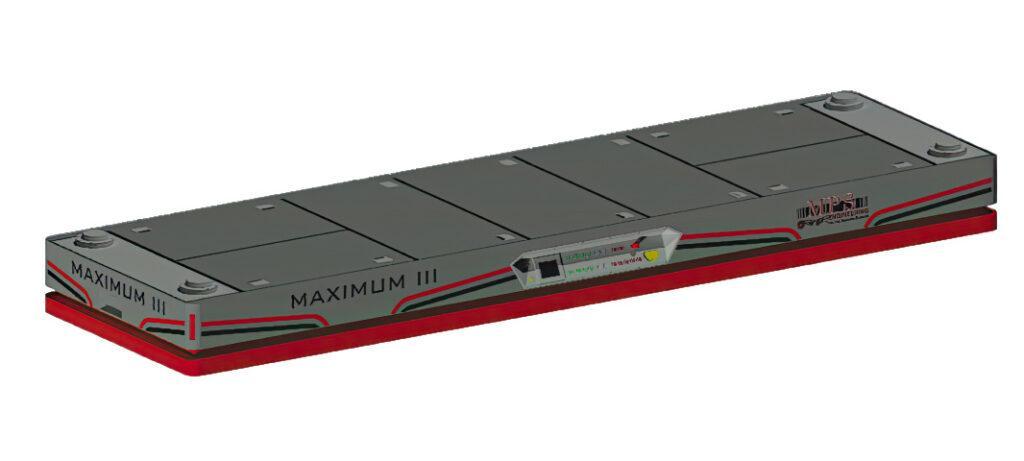 Self-supporting automated warehouse with 6 stacking towers and rail-guided shuttle
| STORAGE UNITS | | |
| --- | --- | --- |
| Stored Product | | Forming tools |
| Quantity stored | N° | 160 |
| Maximum dimensions | mm | 5.000 x 1.500 x h = 500 |
| Maximum load capacity | kg | 1.200 |
| AUTOMATIC WAREHOUSE | | |
| --- | --- | --- |
| External dimensions, warehouse footprint | mm | 22.000x7.000x20.000 (H) |
| Total usable storage volume | mc | 378 |
| Storage temperature | °C | 18 ÷ 28 |
| HANDLING SYSTEM | | |
| --- | --- | --- |
| Number of elevators | N° | 1 |
| Maximum elevator capacity | kg | 2.000 |
| Maximum longitudinal speed (X-axis) | m/min | 24 |
| Maximum transversal speed of UDC (Y-axis) | m/min | 15 |
| Maximum vertical axis speed (Z-axis) | m/min | 32 |
| Maximum shuttle speed | m/min | 24 |